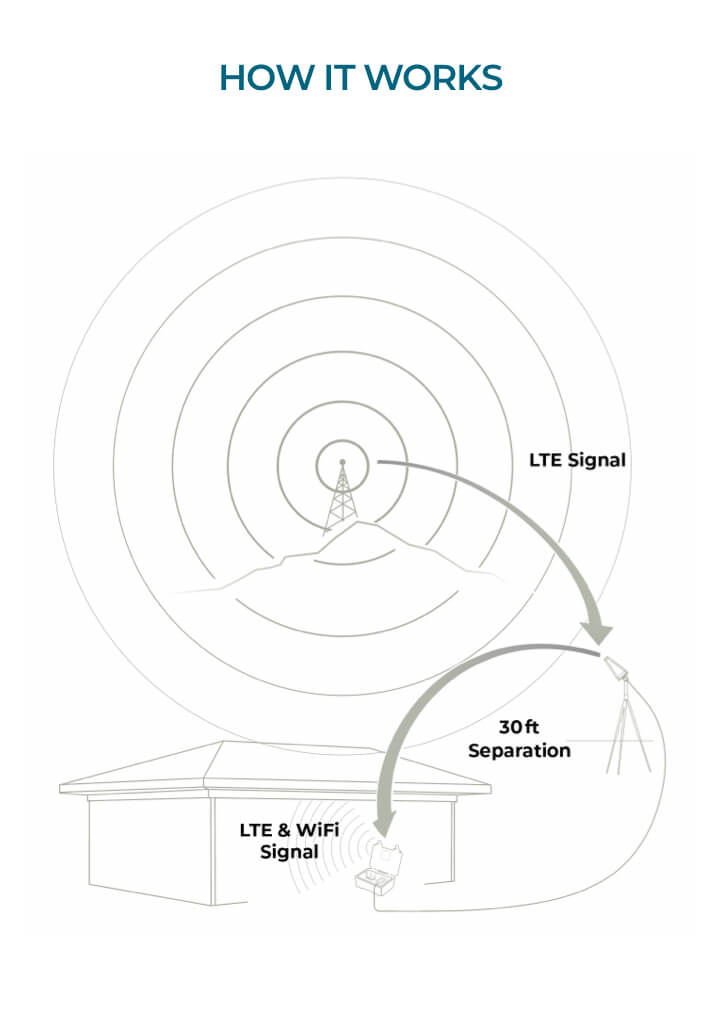 The Portable Signal Unit Commander is intelligently designed to provide fast WiFi and reliable LTE for emergency personnel. Using the power of batteries, public safety crews can set up and tear down in minutes. Gone are the days where connectivity uncertainty limited the ability to respond to crises.
Everything you need is conveniently packaged in a high-impact, watertight, dust-proof Pelican 1620 Protective Case. The extendable handle and wheels make it easy to haul around.
The PSU comes with a Pepwave UBR LTE Dual Cellular Router AND a Cel-Fi GO RED FirstNet signal booster. When turned on, the signal booster enhances your cell reception, and the router broadcasts reliable WiFi, all over FirstNet bandwidths.
Since the router uses the cellular network to operate, it also benefits from the amplified signal. Performance will be significantly better than what another FirstNet hotspot could provide. Connect multiple wireless devices and up to five wired devices and enjoy a reliable connection with speeds up to 300Mbps. The dual-SIM feature can help you stay connected without interruptions.
Standard with two M18 lithium batteries, the PSU Commander offers up to 18 hours of operation. Built-in USB ports and a power strip give you the option to keep additional equipment on. The LED voltage meter allows for easy battery power tracking. Use the plug socket to power the unit when electricity is available.
Easy to set up and use, you'll be good to go in minutes. For optimal performance, the lid must remain open during operation. To protect all electrical components from the elements, place the PSU Commander in a secure area.
ROUTER STUFF
Manufacturer
Pepwave - UBR Dual Cellular Router
WAN Interface
1x GE, 2x LTE Modems
Port Speeds
1 Gbps
Peek Data Speeds
DL 300 Mbps, UL 150 Mbps
Technologies
CAT6 LTE
Dimensions
6 x 4 x 1 inches
WiFi Capabilities
2.4 GHz & 5 GHz
Sim Capabilities
Dual
Antennas
4x 4G LTE Whips, 1x GPS Whips
BOOSTER STUFF
Manufacturer
CEL-FI GO RED
FirstNet Bands
12 and 14
Gain
100 decibels (dB)
Impedance
50 Ohm
Input Power
9.6 - 15.6 V
Connector Type
None
Dimensions
3.8 X 1.75 x 10.75 inches
Weight
1.87 lbs
Booster Color
Red
WHAT'S IN THE BOX?
2x Rechargeable Batteries
1 ft. Jumper Cable
N-Connectors
Right Angle Connectors
N-Connectors
50 ft. LMR 400 Cable
N-Connectors
Panel Antenna (Indoor)
50 Ohm
Yagi Antenna (Outdoor)
50 Ohm
7 ft. Extendable Tripod
Quick Connect
BOX DIMENSIONS
Weight
50 lbs
Dimensions
24" x 15" x 18"
Color
Black
LEGAL STUFF
Router FCC ID
XMR201807EPO6A
Booster FCC ID
0019823665
You have questions. We have answers.
Why should I get the PSU Commander?
You won't have to worry about FirstNet connectivity problems anymore. Simply turn the Commander on and you can set up and easy base station to stay in contact with your team no matter the crisis.
Where can I use the PSU Commander?
Portable and battery powered, the PSU can be used literally anywhere a sliver of cell signal is available. Venues, warehouses, arenas, multi-storied apartments or offices, you name it.
Is the PSU Commander waterproof?
The PSU Commander is water-resistant when closed. Since the case has to remain open during operation, we HIGHLY recommend placing the unit in a secure spot when using it outside. This will protect it from water, dust, falling objects, and anything that can damage the electrical components.
Is the PSU Commander fireproof?
When closed, the Pelican case is rated to withstand a temperature range of -10°F upwards to 210°F (-23.3° to 98.9°C). It may not survive a long time in a blaze, but you'd definitely say it's fire retardant if not completely fireproof.
Will connecting the PSU Commander to the wall also charge the batteries?
No. This will only power the Blazer, GO Red, and any other devices connected to the USB ports or power strip. To charge the batteries, consider the battery charging dock.
As cool as that would be, no. A sliver of signal must be available for the Commander to work.
Since it's Dual-Sim, do I need two FirstNet sim cards ?
Nope. One SIM card is fine. To ensure you're ALWAYS connected, two SIM cards are recommended. If one network is too weak or unavailable, the router automatically connects to the other network.
Read our stuff
We've been doing this for a long time and we like to talk about it. Check out our blog for all the 411.