Hey There. Thanks for dropping by.
Ever have that great feeling of bringing home some stuff you're real excited about? We're talking new truck, new puppy, new TV, or maybe that brand new smartphone you've been eyeing? We can relate. It makes you feel like a kid again.
Problem is, sometimes that stuff doesn't work right. Trucks need gas, pups need food, TVs need cable...and smartphones need signal.
We know good signal.
While we may not be experts in gas, pup food, or cable television, we do know a thing or two about signal. In fact, we love it. Like, a lot. We've been in the business of improving it for a decade. Imagine that feeling again - that's us every time we get a new antenna or piece of cable to test.
We call ourselves Bolton. That's short for Bolton Technical, but don't worry about that last part. We're not your high school science teacher. We're more like that geeky friend you know who can always get your stuff working better than ever.
If Bolton reminds you of a friend of yours, a certain singer, or a faction in Game of Thrones, we get it. Our goal is for you to think of great antennas and equipment when you hear the name Bolton.
We'll get that signal humming!
That's not going to happen without your trust. We know. That's why we're committed to getting your cool smartphones, hotspots, WiFi routers, cell phone boosters, and more humming like they've never hummed before. If you're living with shaky cell or WiFi signal, you'll be stunned at how much a good antenna and solid cabling can help.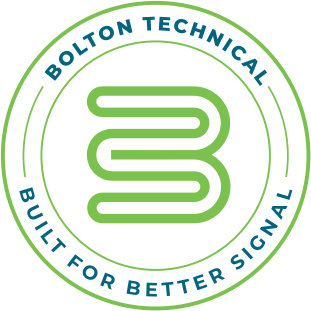 We're people, just like you.
We're confident you'll find our antennas and cable are of the highest quality. We have the tests to prove it. Our US-based team of signal enthusiasts are always available during the week to iron out any issues you might be having, or for a chat. With our in-house installation team, we can provide one-on-one consultation and even full cellular and WiFi installation for facilities over 25,000 square feet.
If you're an integrator, or a reseller wanting to sell our stuff, or just someone wanting to say hello, get in touch. We'd love to hear from you and share our passion!