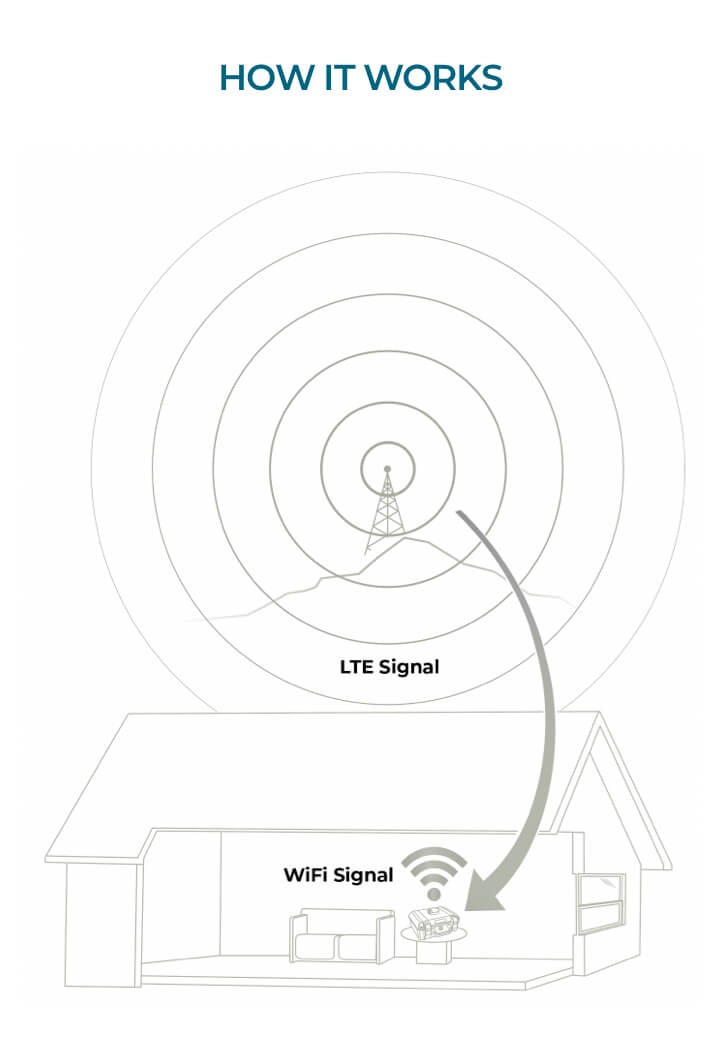 The PSU Mini is a self-contained internet unit that provides fast internet connectivity using the sheer power of batteries. This is ideal as a wifi backup and ideal in urban environments with sufficient cellular signal.
Everything you need is conveniently installed in a lightweight, water-resistant, dustproof Pelican V200 case. Sweet.
The hockey puck looking thing on the lid is an omnidirectional 2x2 LTE and 2x2 WiFi antenna. It's much more powerful than the standard antennas found in cellular hotspots. This allows for a more stable connection and better coverage almost anywhere.
Inside, you'll find a Bolton Blazer LTE CAT 6 router. It supports multiple wireless devices and up to five wired devices. You can easily switch between 2.4GHz and 5Ghz for the best WiFi connection. Enjoy speeds up to 300Mbps down and 150Mbps up under perfect conditions. With dual-SIM capabilities, the Blazer can automatically connect to the strongest network. It works with AT&T, Verizon, and T-Mobile.
Equipped with three low-profile M18 lithium batteries, you can get up to a whopping 9 hours of operation. The easy-to-read voltage meter lets you track remaining battery power.
The super durable case allows for usage in a bunch of different environments, including rain. To protect all electrical components, it's recommended to keep the lid closed.
You have questions. We have answers.
Why should I get the PSU Mini?
Do you want a batter operated router with reliable WiFi at your side? If the answer is yes, the PSU Mini is a no-brainer.
Where can I use the PSU Mini?
Portable, battery powered, and tough, the PSU Mini can be used anywhere cell signal is available. Cabins, piers, boats, festival booths, remote sites, etc.
Will the PSU Mini work in areas without cellular signal?
Unfortunately, no. The PSU Mini uses the cellular network to keep you connected.
Is the PSU Mini waterproof?
It's water resistant when closed. Thus, we highly recommend keeping the lid closed during operation to protect all electrical components from water and other stuff.
Since the puck antenna is mounted on the lid, can water leak through?
Nope. The puck antenna is rubber cement sealed to the lid, preventing water from getting through.
Do I need two SIM cards for the PSU Mini to work?
Nope. One SIM card is fine. For continuous connectivity, two SIM cards are recommended. This allows the router to automatically connect to the strongest network when one is too weak or unavailable.