Bolton Technical
Building Better Signal
Bolton Technical is Open for Business in North America
BoltonTechnical.com is up and running in North America! Serving primarily the USA and Canadian markets, as well as any other interested parties worldwide.
Some of you out there may have bought a Bolton product before, but for most of you, this is a brand-new day. The world of radio frequency (RF) accessories is a wild one, with all kinds of hombres out there trying to make their mark. Sorting through all the off-brand cables, antennas, connectors – it's enough to make anyone's head spin.
To that end, we've launched this site as a one-stop shop. Everything you need to get a functioning system will eventually live here. Right now, we've focused in on the cellular world – accessories for improving and installing cell phone signal booster systems or improving your cellular hotspot can be found on this site.
What We Offer
There are a couple elements to the site you ought to be aware of. First, everything present on the site is available to purchase both online, and over the phone. Special pricing is available with bulk orders or through partnerships with integrators, resellers and distributors.
Partnership information can be found here.
Second, our current line of products can be organized into five major categories:
Antennas are the backbone of the Bolton catalog. We have the highest quality donor and indoor cellular antennas on the market. From omnidirectional, Yagi, LPDA, panel, dome, 5G, 4G, and hotspot, these antennas are designed for any type of environment.
Our Top Antennas Include:
The Long Ranger – An ultra-high gain, 5G capable log periodic antenna. Provides up to +28 dB of gain and has over 10 miles of range. A top performer in ultra-rural or extremely weak cell signal areas.

The Arrow – A high-gain LPDA antenna tailor made to be the outside antenna used in a cell phone booster system, able to provide +12 dBi gain. Simple to install, it's effective up to 10 miles and fits on any roof.

The Crossbow w/ SMA Cable – Our signature hotspot antenna. Capable of boosting 5G as well as all other forms of cellular and plugging directly into any cellular hotspot with an SMA-Female termination - more if you get an SMA/TS-9 Adapter!
Cables encompass our Bolton line of coaxial cable. These are competitively priced with other coaxial cable and are available in pre-cut or custom lengths. We've also got a variety of pigtails and Low-PIM options.
Connectors and Adapters include everything needed to create compatibility between our accessories. While not the flashiest items in our repertoire, these are true champions. These accessories provide a mere 0.1 dB of attenuation, the lowest on the market.
We offer complete adaptability for N-Male, N-Female, F-Male, F-Female, QMA-Male, QMA-Female, SMA-Male, SMA-Female, SMB-Male, and SMB-Female terminations.
Lightning Surge Protectors are inline accessories designed to protect a larger RF system from lightning surges. We offer both 50- and 75-ohm lightning surge protectors, as well as replacement 230V gas tubes.
Splitters and Couplers allow more antennas to be run indoors. We have a wide variety of each, from 2-way, 3-way, and 4-way splitters to –6dB, -10dB, and –15dB couplers. These are frequently used in more complex designs.
Mounts enable antennas to be placed on or near buildings. Currently we offer 10" Pole Mounts and 10" J-Pole Mounts, but more will be added in the future. Our goal with these is to not have their price be a turn-off to a
Bolton's International Presence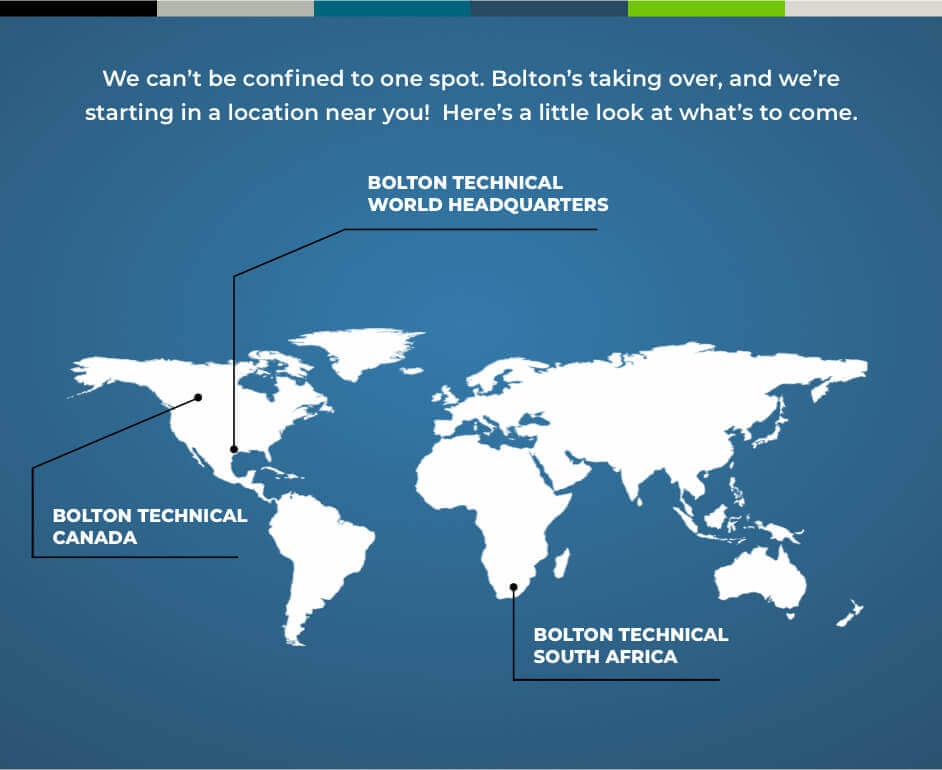 Though this is our North America-based business, we are fully capable of serving anyone, anywhere. We have a South African branch, and do regular business in 12 other African countries.
In addition to the African continent, we are also currently exporting to Canada and Australia.
Our antennas and cabling are designed around total cellular coverage, so they'll work in any country around the world.
Anything Else?
You bet!
We'll be posting regular educational blogs and videos on not only how to use these products but covering all kinds of RF topics. Our goal for these is to both educate and entertain – we're passionate about this stuff, but we know it can sometimes be dry and overwhelming. If you find yourself shaking your heads at one of our cheesy jokes, we know we've done our job properly.
Finally, though we've been coy thus far...watch this site. Come back and see us every now and again. There might be some new surprises down the road.