Bolton Cellular Boosters: Your Signal Saviors are Here!
Transform Your Cellular Signal Woes into Signal Wows!
We're happy to announce the launch of our new cell phone signal boosters – the Bolton Victory for homes and the Bolton Velocity for vehicles.
Many people battle with poor cellular reception at home and on the road. You may know somebody who faces these struggles daily. We aim to eliminate those problems with the Bolton Victory and Velocity.
Why We Developed the Victory and the Velocity
Everybody needs reliable cellular signals for work, play, and emergencies. Unfortunately, poor cellular reception is very common in homes and vehicles. This could be due to cell tower distance, building materials, topography, and many other factors. Cellular boosters are the most reliable way to actually enhance cellular reception where you need it.
The FCC mandates all cellular boosters be sold as complete kits. We've seen that many people prefer upgrading their included antennas and cabling to Bolton . Customers claim performance always exceeds that of their traditional booster kit. So, we developed the Victory and Velocity to meet the needs of those who want the highest quality cellular booster paired with carefully curated accessories for the best possible results.
If you're unfamiliar with how cellular signal boosters work, here is a quick rundown: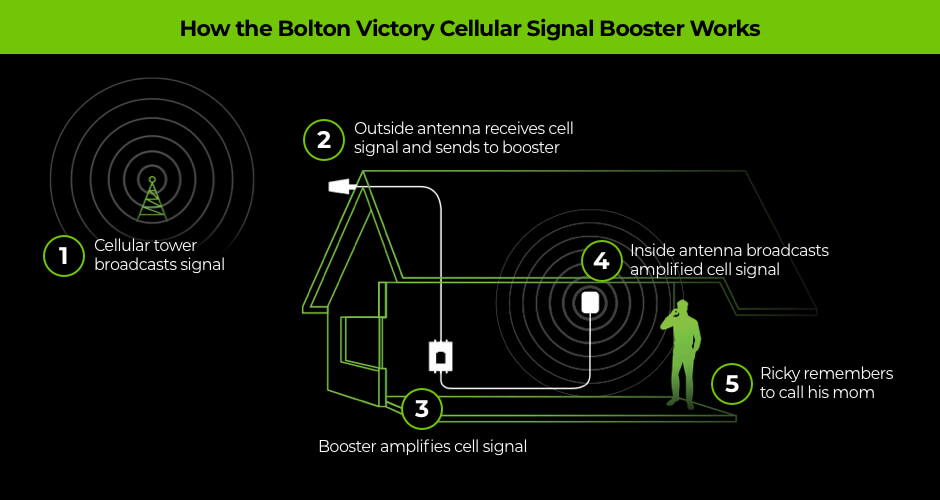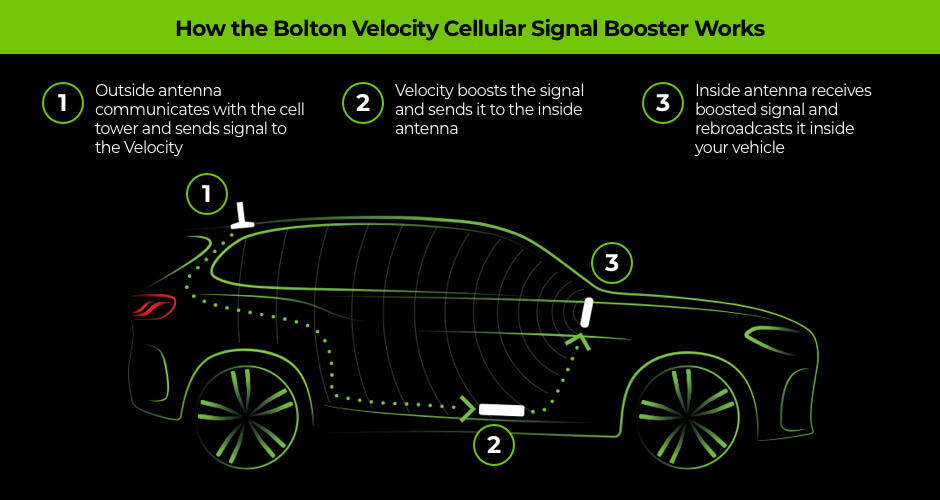 What Makes Bolton Boosters Different
There are tons of cellular booster manufacturers out there, but no one does it like Bolton Technical. Our cellular boosters:
Are carefully crafted by Bolton experts to deliver maximum signal amplification in any situation.
Keep all cellular devices connected no matter the carrier.
Offer superior signal boosts by featuring the FCC's highest allowable max gain for multi-carrier units.
Possess great uplink powers enabling the boosters to send and receive information over longer distances.
What is Gain?
Gain, measured in decibels (dB), represents how much cellular boosters can amplify your existing cell signal. The higher the gain, the better results you'll get in weak signal areas.
What is Uplink Power?
Uplink power, measured in decibel milliwatts (dBm), represents the amount of power cellular boosters use to communicate with your nearest tower(s). The higher the uplink, the further the booster can send and receive signals.
About the Bolton Victory Cellular Signal Booster
The Bolton Victory is a powerful, yet affordable cell phone signal booster for small to mid-size homes and offices. It's capable of improving talk, text, and 4G/5G data in areas up to 4,000 sq ft. With the average home measuring about 2,500 sq ft in the U.S., that's more than enough coverage for most.
Featuring up to 72 dB gain, the Victory significantly boosts cellular connectivity even in weak signal areas. Many other boosters in its class cap out at 65 dB gain. The small difference of 7 dB makes the Velocity slightly over 2x more powerful than the competition. That's because gain is measured on a logarithmic scale. Power doubles every +3 dB.
What's more, it boasts incredible uplink of up to 26 dBm, allowing it to have much farther reach to cellular towers than the competition. Most amplifiers in its class only go up to 24 dBm uplink. Thus, no matter where your home is located, in the country or the city, the Victory has got you covered.
When paired with the right antennas, you have yourself a signal beast. We've created two Bolton Victory kits for slightly different signal situations:
Bolton Velocity Cellular Signal Booster Yagi/Panel Kit
Poor cellular reception outdoors translates to even worse cellular reception indoors. If that sounds like your situation, this is ya boy. We've included specialized cellular antennas designed to squeeze out as much signal from your booster.
It comes with the famous Bolton Quicksilver Outdoor Yagi Antenna. Super powerful and directional, it can hone in on a signal from towers located up to 5 miles away. Yes, you read that right, 5 miles away! That's more reach than what other outdoor Yagi antennas can achieve.
High-performing, the Bolton Indoor Board inside antenna broadcasts the strongest possible signal wherever you need stronger signal. Unlike lots of panel antennas in the market, this one is inconspicuous. That is, until you experience the exceptional signal boost it provides.
The Bolton Victory Yagi/Panel Kit
Home Cellular Signal Booster
Bolton Victory Cellular Signal Booster Omni/Panel Kit
We've also created an Omni/Panel kit for those situations where outdoor cellular reception is pretty decent, but indoor cellular reception is terrible. It's also best for situations where covering multiple carriers is more important than total coverage area.
It comes with the very popular Bolton All-Rounder Outdoor Omnidirectional Antenna. Under optimal conditions, it can reach cell towers located over a mile away! No omni antenna is more reliable or better performing. Omnidirectional, it captures cellular signals from every direction from all nearby cellular towers. The Bolton Indoor Board broadcasts strong cellular signals from all cellular providers throughout. Super simple to install, your home will transform from an almost dead zone to a signal hub in no time.
The Bolton Victory Omni/Panel Kit
Home Cellular Signal Booster
About the Bolton Velocity Cellular Signal Booster
The Bolton Velocity turbo charges cell reception while at work or exploring new places. With its ability to maintain strong 4G/5G signals throughout an entire cab, you can stay connected and productive no matter where life takes you.
It features up to 50 dB gain, which is the max allowed by the FCC for multi-carrier vehicle boosters. Not gonna lie, many multi-carrier vehicle cellular boosters have the same gain. However, when it comes to the Velocity's uplink of up to 29 dBm, it is unmatched. With incredible gain and uplink, we bring you a booster that doesn't leave you hanging in the countryside or the city.
Its small size makes it easy to install under a seat without getting in the way.
We've developed two Bolton Velocity kits to fit different vehicle types:
Bolton Velocity Vehicle Cellular Signal Booster
This amazing kit is designed to provide top-notch signal strength for everyday vehicles such as sedans, coupes, hatchbacks, SUVs, minivans, pickup trucks, and the like.
It includes the powerful 4-inch Bolton Mighty Mag Outside Antenna. It'll capture all signals from all carriers within its radius as you drive down a remote road or busy highway. It's not just mighty, it's also magnetic, making it easy to adhere to your vehicle's roof without any hassle.
Inside your vehicle, the flat panel antenna will broadcast the boosted signal, providing seamless coverage for all passengers. You can easily mount it on or near your dash via Velcro or vent mount for easy access.
The Bolton Velocity Vehicle Kit
Vehicle Cellular Signal Booster
Bolton Velocity Trucker Cellular Signal Booster
This kit is specially designed to fit trucks, semis, and everything in between. Because trucks are much larger and tend to venture on rougher terrain, they require a heavy-duty outdoor cellular antenna. Thus, it includes the indoor flat panel antenna and the revolutionary Bolton Blade OTR outdoor antenna.
Rather than magnetically attaching to your vehicle, the Bolton Blade requires a fixed installation via mirror mount to secure it in place. Its unique design and tough construction ensure the antenna remains upright with minimal swaying for optimal performance. Other OTR antennas are top-heavy and bounce around when driving at high speeds. Movement prevents the antenna from capturing the best possible signal and can cause damage to the vehicle. That is not the case with the Bolton Blade. What's more, the mast features an exclusive whistle-free wrap allowing for smooth, quiet rides.
Due to its performance and unique features, the Bolton Blade is loved amongst the trucker community.
The Bolton Velocity Trucker Kit
Vehicle Cellular Signal Booster
Bolton Velocity Off-Road
As the name suggests, this configuration is optimized for off-road and overland vehicles. We've paired it with a RAM mount to easily accommodate gear and achieve optimal setup. The ball and socket design allows for near-infinity adjustability. You can adjust outside cellular antenna to desired direction without any hassle. Other mounts "designed for off-roading and overlanding" aren't as flexible. Available with a basket clasp or m8 rail mount, it'll complement any set up for your rig.
Like the Velocity Trucker, it includes the Bolton Blade OTR outdoor antenna and the Bolton B-Flat inside antenna. This combination of powerful cellular antennas will help yield the best signal boost even off the beaten path without compromising space and storage.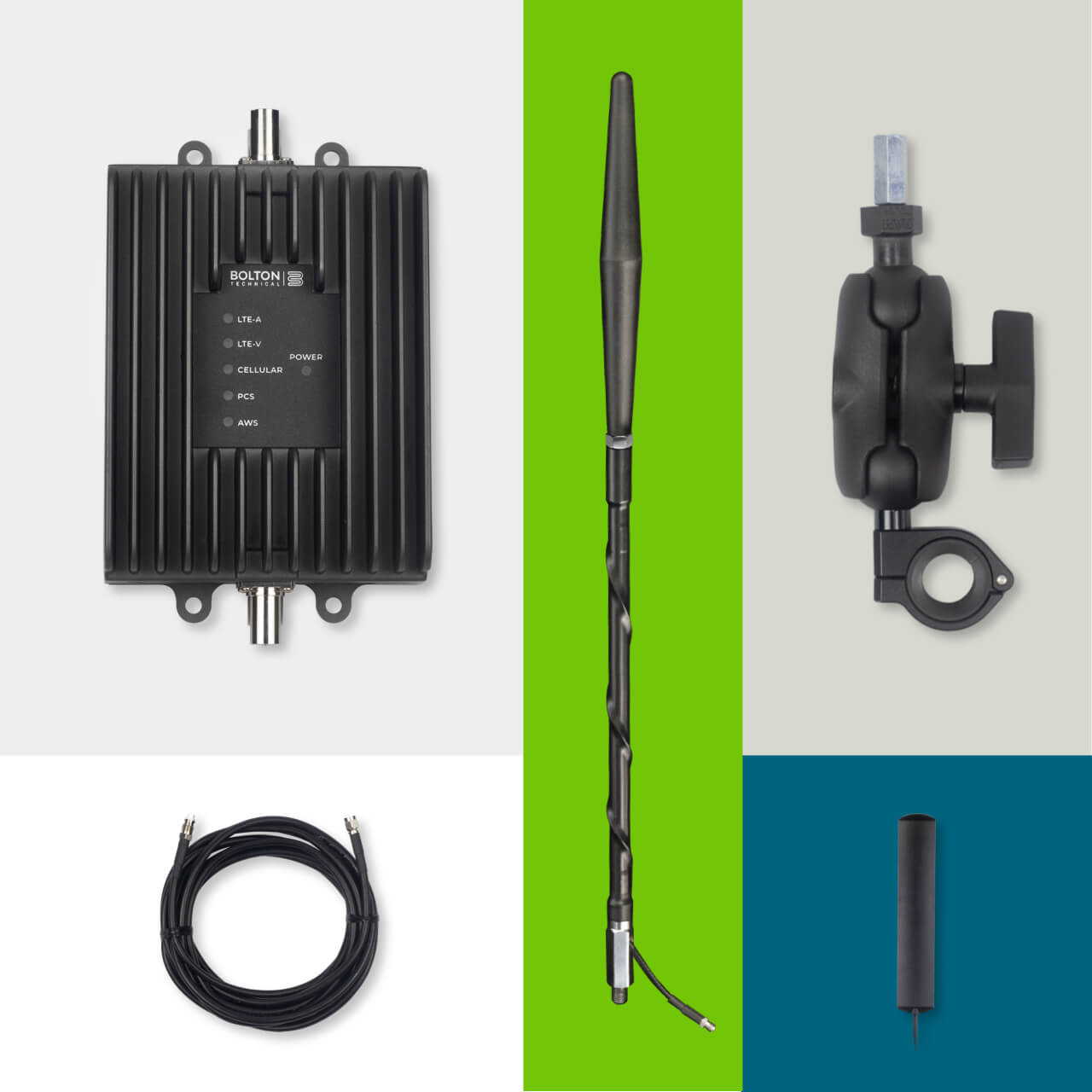 The Bolton Velocity Off-Road Kit
Vehicle Cellular Signal Booster
Where Can I Buy Bolton Cellular Boosters?
You can get your hands on the Bolton Victory or Bolton Velocity cell phone signal boosters through our trusted partner SignalBoosters.com. If you wish to become a distributor of these awesome cellular boosters, let us know.
For any questions regarding the all-new Bolton cellular boosters, don't hesitate to call us at 1-888-987-2658. We're here to help and get you on the road to superior signal. To view more of our awesome products, get a free copy of our Bolton Technical Product Catalog.