We've got cable! 20 feet of it. Great quality, black jacket, weatherproof, good flexibility, low loss...what more could you need for your coaxial cable runs?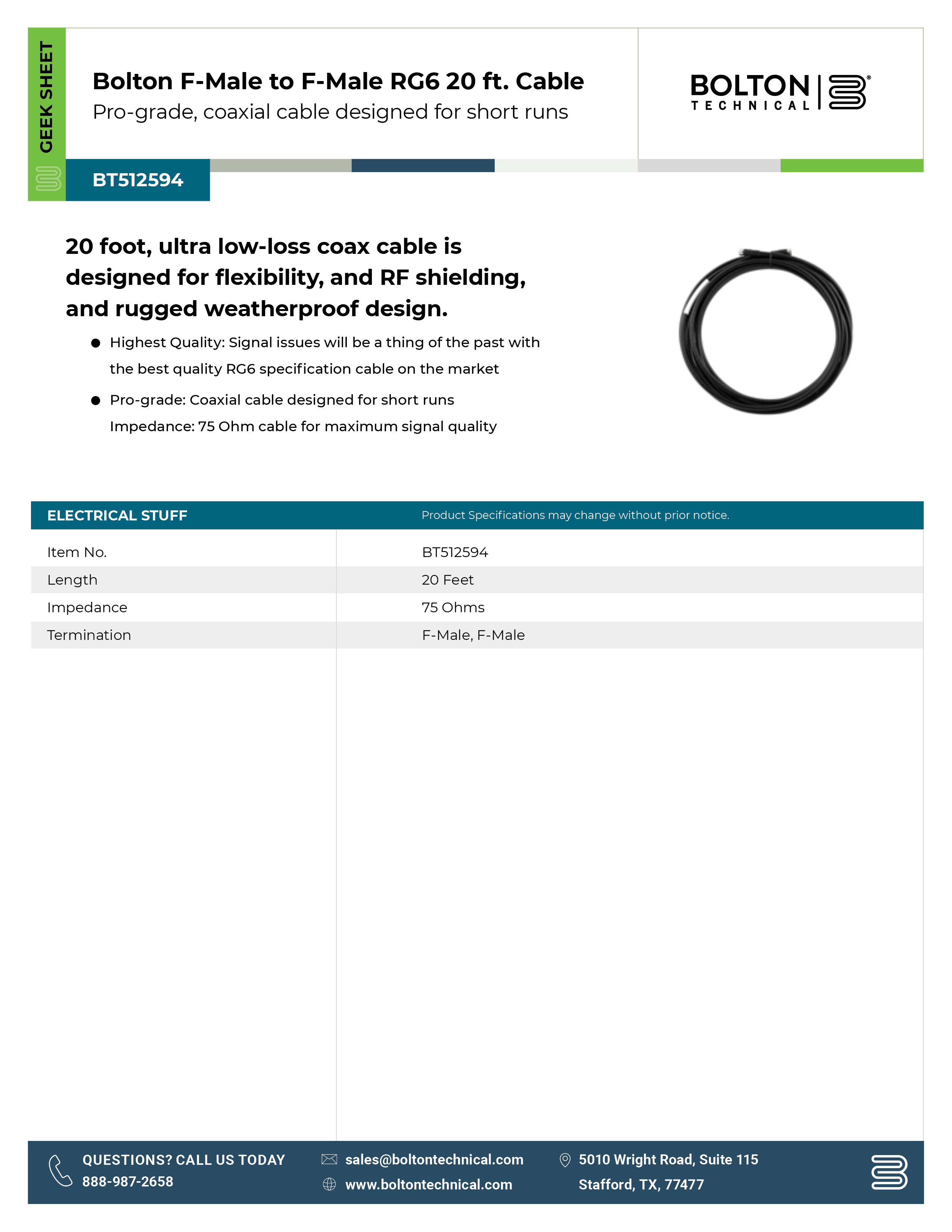 Download the Geek Sheet
The Bolton Technical RG6 Low Loss cable is consumer grade, high-quality 75 ohm cable that's perfect for running in homes or home offices. It carries cellular, WiFi, and television signal with minimal loss under 50 feet. You can expect a negligible amount of loss from this length and grade of cable for your RF or Digital signal. It features an F-Male connector on one end and an F-Male connector on the other with a black outer coating.
Approved for the use with Cable Modems, Televisions, Satellite Receivers, Off Air Antennas - including HD Antennas, on DIRECTV, Dish Network, Comcast, Charter, Verizon FiOS, AT&T U-Verse, FTA, OTA, Satellite Internet providers (such as HughesNET, Wild Blue, Excede), Cell phone signal boosters, and many other services and providers.
With antennas and cell phone signal boosters, Bolton RG6 Low-Loss coaxial cable does not discriminate, allowing for long runs of cellular signal for any North American carrier, including AT&T, Verizon, T-Mobile, Sprint, US Cellular, Straight Talk, Tracfone, Rogers, Bell, Telus, and more. It also works for any device that makes use of cellular signal, including hotspots, iPhones, Android devices, tablets, Verizon jetpacks, and more.
Works great indoors and outdoors, with a highly durable weatherproof and UV resistant PVC outer jacket. High quality consistent 75 Ohms throughout the whole cable.
In other words – this is a super versatile length of consumer cable that can fill any 75 ohm niche you have.