Overland and Off-Road Essentials: Gear You Didn't Know You Needed!
Elevate Communication in Your Rig
Overlanding and off-roading have become very popular ways to seek new adventures. Ensuring your vehicle is equipped to tackle rugged landscapes and loaded with essential safety and survival gear is a given. Yet, there's a crucial piece of equipment many forget – a cell phone signal booster.
Understanding Cell Phone Signal Boosters for Overland and Off-Road Vehicles
Dead zones and spotty cellular reception are very common on the way to remote trails, secluded campsites, and thrilling terrains. This is due to cell tower distance and topography.
While some may love the disconnected life, having reliable cell reception while enjoying new adventures is a dream come true for others.
Cell phone signal boosters designed for overland and off-road vehicles allow you to keep connected in places where you normally wouldn't be able to. They pick up any available 4G and 5G cell signals and deliver them even stronger inside your rig using an outside antenna, an amplifier, and an inside antenna.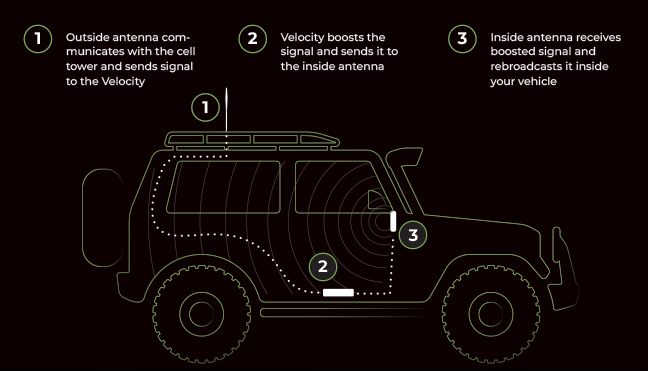 With reliable cell reception, you can enjoy:
Reliable communication with other overlanders and off-roaders
Increased safety
Fewer dropped calls and undelivered texts in remote areas
Better voice quality
Faster data for social media, video calls, music, movies, and navigation
A more connected adventure
For optimal results, there must be a sliver of cell signal available. Cell phone boosters do not create cellular signals. They simply reduce the frequency and duration of dead zones and poor connectivity.
Super easy to install, they can easily be added to any rig at any time. You don't even have to adjust your setup. With specialized mounts, they can accommodate your gear.
Bolton Velocity Off-Road: The Ultimate Overland and Off-Road Companion
The Bolton Velocity Off-Road is the best cell phone booster on the market for overland and off-road enthusiasts. It significantly improves talk, text, and 4G/5G data across all cellular providers for all cellular devices anywhere a cell signal is available.
It features up to 50 dB gain, which is the max allowed by the FCC for multi-carrier vehicle boosters. We recognize that many vehicle boosters have the same gain. Where it really shines is in its uplink power. It boasts up to 29 dBm. That's about 3 dBm more than other vehicle boosters in its class. While it might not seem significant, it is. That incremental difference makes the Velocity Off-Road about twice as powerful, allowing it to capture cell signals from farther distances, keeping you connected in more places on or off the road.
Paired with the Bolton Blade outdoor antenna, the #1 antenna for off-roading and overlanding, performance is unmatched. Tough construction prevents the antenna from swaying, ensuring it consistently receives the strongest signal possible. Other overland and off-road vehicle cell antennas are top-heavy and bounce around all willy-nilly, affecting performance. What's more, with the whistle-free wrap, you can enjoy smooth, quiet rides.
The built-in quick disconnect connector and quick disconnect mount attachment make it super easy to remove the Blade at any time if needed.
For optimal outdoor antenna setup, you have the option to choose from an M8 Rail RAM mount or a Basket Clasp RAM mount. The ball and socket design allows for near-infinity adjustability. Other mounts targeted for off-roading and overlanding aren't as flexible.
The Bolton B-Flat inside antenna broadcasts the strongest cellular signals possible throughout your cab. Its longer surface allows for wider in-vehicle coverage than others. It can be mounted on your dash, air vent, or seat. Small, it will not get in the way of other equipment or use up too much space.
When the Velocity Off-Road is not in use, you can easily power it down via the power switch built into the 12V/5A DC power supply.
If you want power, flexible installation, and high-quality equipment, the Bolton Velocity Off-Road is for you.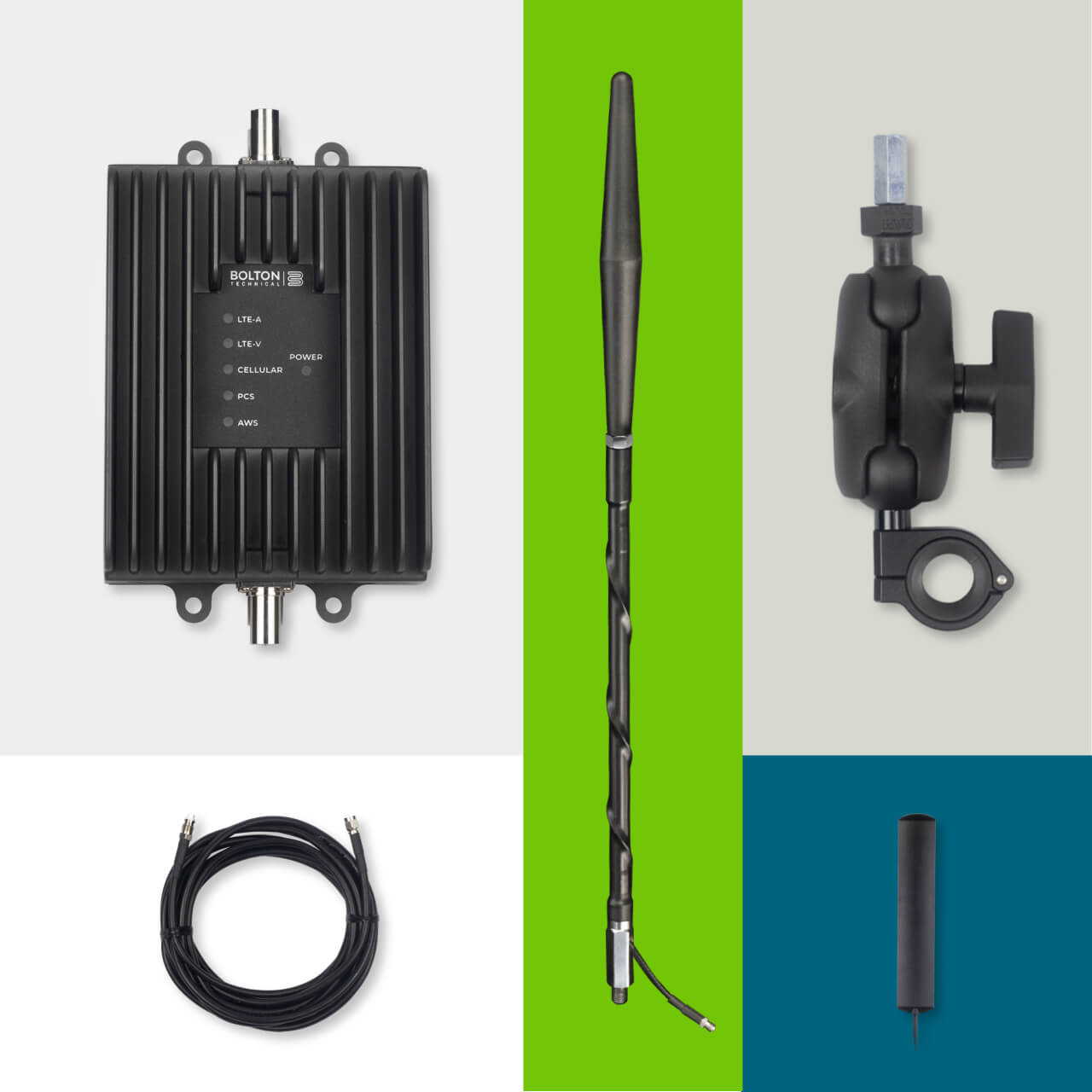 The Bolton Velocity Off-Road Kit
Vehicle Cellular Signal Booster
Stay Connected Beyond Civilization
The Bolton Velocity Off-Road Cell Phone Signal Booster is sure to take your adventures to the next level relatively anywhere you go. Get yours today! If you wish to become a distributor of this awesome cellular booster, let us know.
For any questions regarding the Bolton Velocity Off-Road, don't hesitate to call us at 1-888-987-2658. We're here to help get you on the road to superior cell signal. To view more of our awesome products, get a free copy of our Bolton Technical Product Catalog.