Bolton Crossbow vs Bolton Arrow vs Bolton Long Ranger
Bolton Crossbow vs Bolton Arrow vs Bolton Long Ranger
We all know the frustration of buying a signal booster kit, setting it up, and seeing no improvement in bars. Enraged clients, frustrated salespeople, and general unhappiness all around. The best way to avoid that is to make sure your clients have an appropriate antenna. Bolton Technical has a range of antennas, but our top three big boys will get the job done, no matter where your client is.
But which one do you recommend? The Crossbow, Arrow, and Long Ranger all have their particular niches. In this article, we have a look at which one you should suggest in which situation. Become a Bolton big boy antenna boffin!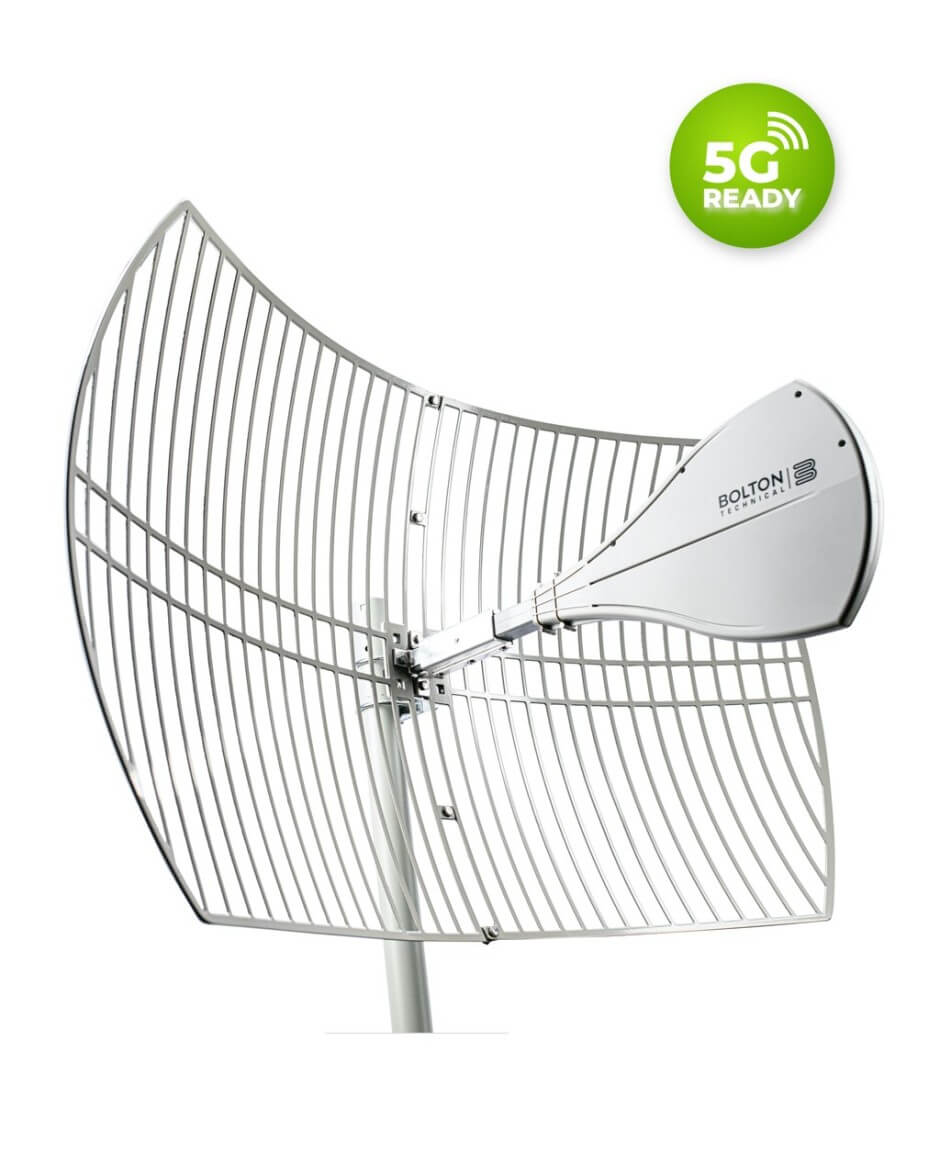 50 Ohm Antenna with Up to 20 Miles of Range
Up to +28dBi of Gain, N-Female Termination
For ALL Cellular and WiFi Bandwidths
Designed for 5G, 4G, LTE, Wi-Fi 6, and more
This thing is the real deal. If your customers have signal issues anywhere, this beast will make sure they are connected. Period. Vast untouched vistas, towering mountain ranges, or miles of virgin forest; this antenna will search out signal like a bloodhound on a trail. Send your clients to live off-grid with the confidence that they won't be left out in the signal less cold.
The Long Ranger works with cell signal and WiFi. In fact, it covers the entire width and breadth of all frequencies that anyone could possibly want. Looking to listen in to a HAM radio? The Long Ranger has got you. Need WiFi on top of a mountain peak? It's got that too. You could probably hear things from outer space.
The Long Ranger is the highest continuous gain parabolic cellular antenna on the market. It also gets more gain than any other antenna, be they Yagi, Omni, or whatever. You're looking at a maximum gain of up to +28 dBi. That's a power increase of up to 15X! If you use a radiation cone between 4 to 20 degrees, you can fine-tune its receiving area, making it reach even further than most rival antennas. To set this up though you must be VERY exact. It needs to point directly at the nearest tower. The payoff is an insane range of over 10 miles. We help with all things to do with the Long Ranger, and our super-hero Bolton Install Team is standing by to help get it right.
It's important to note though that as with all antennas, this does need to be paired with a signal booster or a router. Have a look at our sister site www.signalboosters.com to find the perfect match for you or your clients.
The TLDR? If you have clients that want all the power of the world's best antenna, point them in the direction of the Long Ranger.
Have a look at the Geek Sheet for even more mind-blowing info.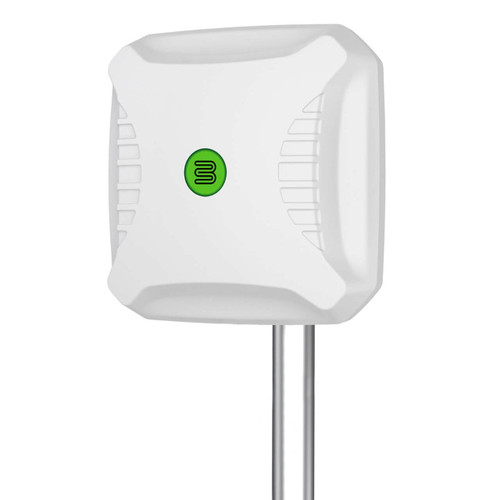 2 X 2 MIMO High Gain Directional Antenna
Covers 617-3800Mhz cellular frequencies
Up to +11 dBi of gain
50 Ohm 5G Ready
Ideal for direct connection to a MIMO cellular router, modem, or hotspot
The Crossbow has a giant X on the front for good reason. It's our best cross-polarized 5G/4G LTE MIMO cellular hotspot antenna, optimized for cellular networks. If you have people that need to improve their cell signal for their hotspots, no matter where they are, the Crossbow is the answer.
There are two versions of The Crossbow available. One version includes 16 feet of Twin HDF-195 cables with SMA-Male termination, ideal for easy plugin into your modem, hotspot, or router. The second includes no cables and is equipped with twin N-Female ports. This is ideal for running Bolton400 or any other N-Male terminated 50 Ohm coax cable to it.
The Crossbow is easy to install and offers up to 11dBi of gain. It will work with urban signal booster setups or rural ones. The better the outside cell signal is, the more gain you'll get from your Crossbow. We help with setting the whole shebang up to get the most out of your system.
If you need a future-proof, 5G optimized cell signal antenna, then look no further than the Bolton Crossbow.
To learn more about how you can super-charge your hotspot, modem, or router, have a look at the Geek Sheet, or check out the video.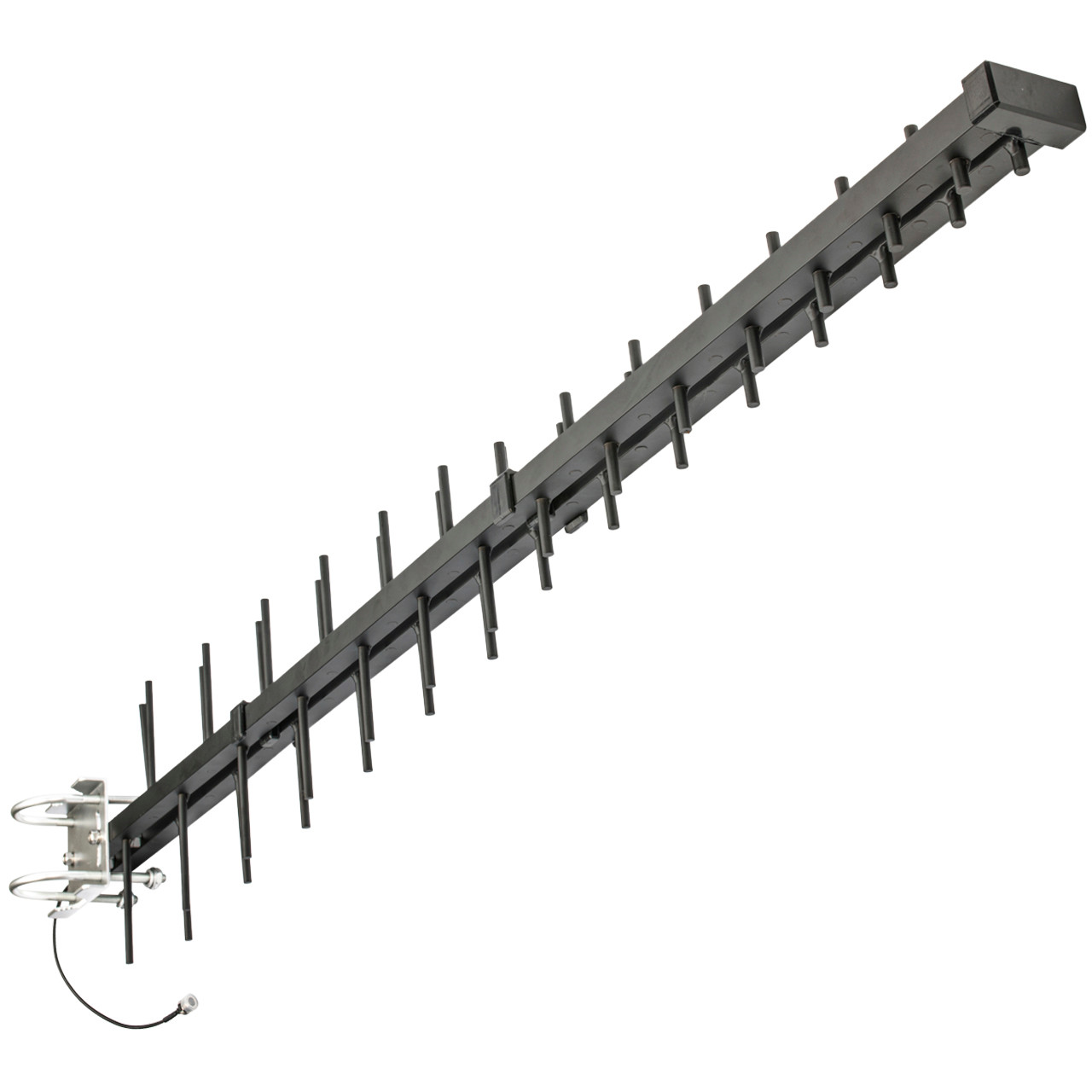 50 Ohm Antenna with Over 5 Miles of Range
Easy to Install and Point
Up to +12dBi of Gain
30° Directional Beam
Covers 698-2700MHz Cellular Bandwidths
Reliable, Weatherproof Construction
Finally, we come to Bolton's LPDA to end all LPDAs. The Arrow is the LPDA that you have been looking for your whole life. The Arrow is named for its looks; sharp, purposeful, and deadly. Ok, well it's not deadly unless you count being deadly toward bad signal. But it is deadly serious. If you are looking for an all-weather answer to bringing cell signal into your home or building, then this is the hero you have been waiting for.
The Arrow nearly doubles the power and range of a regular run-of-the-mill Yagi. It works across every carrier worldwide, and covers 4G, 4G LTE, and gives you a whopping +12dBi of gain while it's at it. It's great at singling out the signal that you need from all the signal noise in urban areas. It's slightly cheaper than the Long Ranger and is better suited to situations with a closer cell tower.
This antenna is the perfect balance between power and useability. Installing it only needs a line-of-site to the nearest tower, which can be up to 5 miles away. Compatible with 50 Ohm coaxial cable, the Arrow has an N-Female Male termination. It can be set up on a roof, on a pole, or pretty much anywhere that a signal booster needs a bit of extra hero power.
When the night is dark, and your booster or hotspot is holding out for a signal hero, let the larger-than-life Arrow sweep you off your feet.
Find out more with the Arrow's Geek Sheet.
| | Arrow | Crossbow | Long Ranger |
| --- | --- | --- | --- |
| MHz | 698 MHz - 2700 MHz | -617 MHz- 3800 MHz | -600 MHz -6500 MHz |
| Max Gain | 12 dBi | 11 dBi | 28 dBi |
All three of these bad boys will get signal to your booster or hot spot when you need it most. No longer fear the dark, signal-less expanse. Whether your clients are in an urban area and need a bit of a 5G cell boost from the Crossbow, a rural area with spotty signal at the best of times, or a remote mountain peak with no visible signal at all, Bolton has the answer.
For any questions regarding any of our Bolton antennas, don't hesitate to call us at 1-888-987-2658. We're here to help and get you on the road to superior signal. To view more of our awesome products, get a free copy of our Bolton Technical Product Catalog.