High-Performing and Truly Customizable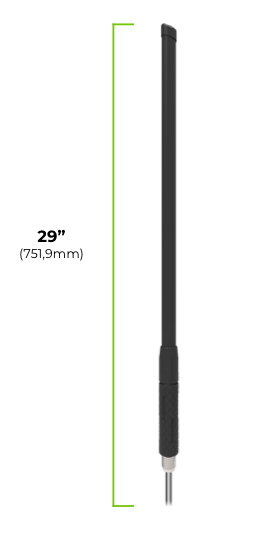 The Bolton Warrior is the first MIMO OTR antenna on the market. It's a high-gain, omnidirectional 5G/LTE 2x2 MIMO vehicle antenna providing up to +2.5 dBi gain across the 617-4200 bands. That covers every inch of cellular across North America, including current and future 5G! So, you're future-proofed with this antenna.
It's super versatile, able to be used for fun and profit. You'll see better streaming and download results if you're lugging a lot of others along with you. But its real value is in business.
The Warrior has almost limitless use across dozens of industries. Agriculture, transportation, mining, education, factory automation – all these and more can make use of the improved data speeds the Warrior provides. It's incredible the difference doubling the data rate of an M2M/IoT device can make for its performance.
Its 2x2 MIMO capabilities give it compatibility with any 2x2 hotspot or router. Its omnidirectional antenna give it consistent connection no matter the terrain. Finally, it's easy to mount and install: it comes with a 3-way antenna mast which can suit any vehicle type.
You have questions. We have answers.
When Should I Buy the Warrior?
The Warrior nearly doubles data speeds reaching your hotspot. It is the most reliable way to have consistent internet in rural or remote areas while driving.
It can be for personal use, business use, or M2M/IoT use, improving communication in all three scenarios.
Does the Warrior Work on Any Hotspot or Router?
The Warrior only works with routers which have 2x2 Antenna ports. The Warrior is not 4x4 MIMO compatible.
Hotspot, router, and SIM card not included.
Is the Warrior only for Trucks?
While predominantly for trucks, with the right antenna mount, you can install it on any vehicle. This includes (but is not limited to) cars, SUVs, RVs, and vans.
Do I Need an Adapter to Connect the Warrior to My Cellular Router?
The Bolton Warrior comes with SMA-Male connectors. If your router has anything other than SMA-Female connectors, you will need the appropriate adapter.